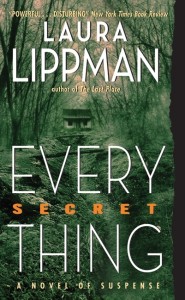 Two little girls banished from a neighborhood birthday party take a wrong turn down an unfamiliar Baltimore street—and encounter an abandoned stroller with an infant inside. What happens next is shocking and terrible, and three families are irreparably destroyed.
Seven years later, Alice Manning and Ronnie Fuller, now eighteen, are released from "kid prison" to begin their lives over again. But the secrets swirling around the original crime continue to haunt the parents, the lawyers, the police—all the adults in Alice and Ronnie's lives. And now another child has disappeared, under freakishly similar circumstances …
---
Every Secret Thing is a riveting story of love and murder, guilt and innocence, adult sins and childhood darkness that the New York Times Book Review hailed as, "powerful…disturbing." Stepping away from her acclaimed, award-winning mystery series featuring Baltimore private investigator Tess Monaghan, author Laura Lippman has delivered a novel of psychological suspense that will shock and mesmerize readers, gripping them to the page while breaking their hearts. The tale of a terrible event that devastates three families, after two young girls discover by of an unsupervised baby on an empty street, Every Secret Thing is a bravura demonstration of the extraordinary storytelling skill that has won Laura Lippman every major literary prize bestowed upon mystery writers, including the Edgar®, the Anthony, the Shamus, and the Agatha Awards.
Where to Buy the Book
Book Details
ISBN: 9780060506681
ISBN10: 0060506687
Avon
Released: 9/28/2004
Formats: Mass Market PB | Trade PB | eBook
Extras
Read an Excerpt