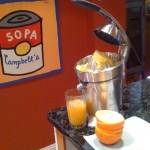 A friend over on Facebook asked me to find an article I once wrote about Anne Lamott more than a decade ago; a more intrepid soul did the job for me.
I remembered the article well — or thought I did. I had quite forgotten the last paragraph in which I dropped the reporter's mantle of ironic distance and threw my lot in with Lamott's fans. Predictably, however, I can't remember what I did in the video store, or why. My best guess is that I re-arranged some titles. Yes, it sounds pretty petty. Did I ever deny being petty?
This piece was written just before the worst time in my life (so far) was about to begin. So the main thing I notice in reading it is that I was utterly oblivious to all the bad things that would happen in the next twenty months. I find that perspective especially terrifying.
Happy Monday!