"One of the season's most powerful new novels is Laura Lippman's To the Power of Three, a gripping tale that is a mystery only in the same sense as To Kill a Mockingbird was. This is a brilliant, insightful, moving tale of three girls, best friends forever, whose lives crumble when a shooting at their suburban Baltimore high school leaves one injured, one dead and one dying … The troika of teenagers who form the center of the novel are as real, as intriguing and as heartbreaking as any characters you will ever read about in a whodunit. To the Power of Three is the best mystery novel of 2005 so far.

David Montgomery Chicago Sun-Times
December 2005 Baltimore is in re-branding mode again, paying $500,000 to a consultant to remake the city's image. Nevermind that Faith Popcorn took us — um, contracted to do the same — several years ago. Never mind that the city's image is pretty good, or that it has a perfectly serviceable nickname,
Charm City
, that captures life in Bawlmer pretty well. Never mind that a letter-writer to The Sun offered a wonderful new slogan for free (
Baltimore: Home of the Brave
.) Baltimore's leaders are convinced that one smart slogan will make the city a bigger draw for tourism. I keep pointing out that the city has landed at least one convention precisely because of its murderous legacy, but that pesky fact seems to contradict everyone's working thesis, so it's ignored. Anyway, I'm going to do my civic duty and attempt to help visitors to Mobtown. This tour, which several fans have requested over the years, is broken down into a series of four walking tours of varying length — one starting in Fell's Point, two at the base of the Washington Monument, and one in the Inner Harbor. I've also added a list of North Side sites, accessible by car; I'll provide other car trips over time. Please use common sense wherever you go. While Baltimore is relatively safe for tourists, it is officially the sixth most dangerous city in the United States. Where applicable, I've noted the related Tess title in parentheses. Code:
BB = Baltimore Blues;
CC = Charm City;
BH= Butchers Hill;
IBT = In Big Trouble;
TSH = The Sugar House;
IASC = In a Strange City;
TLP = The Last Place;
BAST = By a Spider's Thread; and
NGD = No Good Deeds (To be published summer 2006).
Walking Tour #1: Tess's first neighborhood
For the first five books in the series, Tess lived above her aunt's bookstore on Bond Street, where it intersects with Shakespeare in Baltimore's Fell's Point neighborhood. The building on this site is a non-descript warehouse next to a restaurant called The Black Olive — which happens to be run by a former librarian, although all resemblance to Kitty Monaghan ends there. Walk east on Shakespeare — it's the only way you can go. Careful readers may recall that Jackie and Laylah (BH and IBT) live here behind a glossy red door. At the end of Shakespeare, you'll reach Broadway. On the west side of Broadway, you'll find
Bertha's
(734 S. Baltimore), where Tess likes to "squinch up her nose at the tourists eating mussels." (CC.) Across the square there's
Jimmy's
(801 S. Broadway), where Tess often ate after rowing practice, ordering the same thing every day. (BB) If you walk south on Broadway, then east on Thames, you'll find the original
Daily Grind
(1720 Thames), a wonderful coffee house that has been referenced in several books. Also on Thames is the old recreation pier, better known as police headquarters to millions of Homicide fans. If you head north on Broadway, then east on Fleet Street, you'll discover
Mystery Loves Company
(1730 Fleet St.), a bookstore that helped Tess with her research on Edgar Allan Poe. (IASC.)
The Antique Man
, owner of the giant ball of string, is one block east. Hearty souls can continue on foot, walking north on Bond Street to Eastern Avenue, then going east to find
Patterson Park
and the pagoda (BH). Tess's office is in the Butchers Hill neighborhood that lies north of Eastern Avenue, but the exact address has never been given. Lombard Street? Pratt? Baltimore? Whichever block you search for Keyes Investigations Inc., you'll find plenty of evidence for the gentrification that has led Tess to worry about being priced out of the neighborhood (BAST). Avid walkers (and pizza lovers) should walk the Eastern Avenue border of Patterson Park (also a key location in a Tess short story, "Ropa Vieja") and continue toward Clinton Street. There, just opposite the old Patterson Park Theater, is
Matthew's Pizza
(3131 Eastern Ave.), where Tess and Whitney confer (NGD). Unlike Tess, I can eat shellfish, and the crab pie at Matthew's is wonderful. Now call a cab (410-685-1212). If you want to keep walking, ask to go to the Washington Monument on Charles Street. If the cab driver doesn't know what you're talking about do NOT get in the cab.
Walking Tour #2: Washington Monument — North
There are exactly 228 steps in the Washington Monument and it's worth the climb. (Not recommended unless you're in good shape and comfortable with confined spaces.) Tess made it to the top — once. (IBT) "Funny, she had never realized what a squat city Baltimore was, how it hugged the ground. The effect was of a low, paranoid place, peering anxiously over one shoulder. She looked east to where she lived and worked . . . Closer, she could pick out the roof of the Brass Elephant, her home away from home."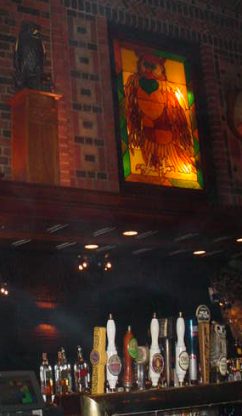 The Brass Elephant
(924 N. Charles) is just three blocks north of the monument. En route to The Brass Elephant, you will pass the
Helmand
(806 N. Charles), one of Baltimore's best values, although I don't know if they really do carry-out. (IASC). At Charles and Chase streets, you'll find the Belvedere Hotel, home of the
Owl Bar
(right). Alas, it no longer serves homemade potato chips with melted blue cheese (IASC), but the stained-glass owls, their quatrain perpetually unfinished, are here. Farther north along Charles is
Penn Station
(TSH) and the
man-woman statue
that has caused much public distress. (NGD). If you've come this far, you might as well walk one long block and go to the
Charles Theater
, an art house where they still show the John Waters' "
No Smoking"
trailer.
Tapas Teatro
(NGD) is next door. (1711 N. Charles) Baltimore was late to the tapas trend, as it is to most things, but it's taken to it with a vengeance. In addition to Tapas Teatro, the city also has two excellent restaurants in the Fell's Point area,
Pazo
and
Mezze
.
Walking Tour #3: Washington Monument — South
As much I love the restaurants and bars north of the monument, there's more to be seen on the southern route. Two blocks south and one block west of the monument, the
Enoch Pratt Central Library
(400 Cathedral St.) is always worth a visit.
The Mencken Room
is open to scholars only, although visitors are allowed in the Poe Room. But the real draw is the library itself — the soaring atrium, the portraits of the various Lord Baltimores. Also, the librarians would like me to inform the world that the fish pond outside the children's room is no longer filled with algae. (BB.) From the library, there are two choices: You can walk south on Cathedral and then west on Saratoga, passing the original site of Marconi's (CC) and continuing to Eutaw. Heading south on Eutaw, you'll come to the
Lexington Market
(Eutaw and Lexington Streets), the crown jewel in the city's network of public markets. Tess has purchased peanut brittle here from Konstant Kandy (CC), but if she wasn't shellfish averse, she would definitely have the all-lump crabcake at Faidley's, along with oysters if they're in season. From Lexington Market, continue south on Eutaw, then west on Fayette. At Fayette and Greene, you'll find
Westminster Burying Ground
, where Poe is buried. Remember — the monument near the front gate is Poe's second burial site and the date of his birth is wrong. To find the original site, where the Visitor comes every January 19th, you'll have to venture deeper into the cemetery. (IASC). Alternative route from the library: Go south on Cathedral, east on Saratoga, then south on Calvert Street. You'll pass the
Clarence Mitchell Courthouse
- where Tess led photographers on a perp walk decoy (BB). At the intersection of Baltimore and Calvert streets is
Cypriana
(120 E. Baltimore St.), where Tess uses falafel as a verb. (TSH — and, in fact, it was my colleague David Folkenflik, now of NPR, who taught me to use falafel as a verb.) A pita sandwich can run up to nine dollars with all the extras, but it's worth it. As you munch, gaze on the Continental building at the southeast corner of Baltimore and Calvert. Dashiell Hammett worked as a Pinkerton here and the birds that festoon it were once painted black. Coincidence? Within a few blocks, Calvert Street leads you to the Inner Harbor development for which Baltimore is so well-known. In the Gallery, a multi-level mall, there's a notable local store among the chains -
Amaryllis
, where Tess once watched a young lawyer on a shoplifting spree. (BB) Across the street, there are the two Harborplace pavilions. Beautiful views from the various waterside restaurants, which include such familiar names as Pizzaria Uno's and the Cheesecake Factory. If I were going to have a drink here, I'd choose the outdoor section at Paolo's, which has a good wine list and overlooks the USS Constellation.
Walking Tour #4: Inner Harbor/South
If you choose to start your Tess tour here, you can use the
Water Taxi
to go to Fell's Point (it will deposit you at the foot of Broadway) or other locations along the waterfront. You also can walk south along the broad waterside promenade, toward the
Maryland Science Museum
and Federal Hill. The Domino Sugars sign will seem to follow you almost wherever you go (TSH). At the Science Museum, you can choose to continue walking south on Light Street, which takes you into the heart of the Federal Hill neighborhood — including
Spoons
, my coffee house of choice, and the
Cross Street Market
, which has a hopping Friday night happy hour among the fish stores in the east end. There are many fine restaurants in this area; Tess is fond of the gingerbread with lemon sauce served at
The Bicycle
(referenced in NGD). I like
Matsuri
for sushi and my neighbors swear by the egg salad at Big Jim's, a sandwich stall in the market. Fresh Utz potato chips are sold here, too. (TSH) For the serious sightseer, I recommend going east on Key Highway. This will lead you to the
American Visionary Art Museum
, 800 Key Highway, one of Baltimore's outstanding attractions. Everything in the museum is worth seeing, but if you have limited time, make sure to check out the painted screen exhibit, where you'll see an example of Dee Harget's work. (Dee's work was mentioned in
In a Strange City
, and Dee was so pleased that she painted a screen just for me, a one-of-a-kind work that combines the usual screen art motifs with Poe's gravesite.) Famed folk artist Howard Finster also has contributed a marvelous likeness of Francis Scott Key. The restaurant at the top, the
Joy America Café
, has beautiful views, although the menu has changed since Tess dined here (CC). The view from
Federal Hill
itself should not be missed. Fans of HBO's
The Wire
might care to know that Jimmy McNulty took a tumble down the east side of the hill on season one, and Councilman Carcetti has a brooding, drunken moment on a bench in the first episode of Season 4. The east side also is an exquisite sledding hill for the truly brave: There is a relatively narrow space between the two banks of parking meters at the foot of the hill and a short, flat span before one literally hits the museum. I made it. Not everyone in my party did, however.
North Side
Tess lives here, although I won't give the specific address; careful readers, however, have sussed it out again and again. In a sense, she was born here, too, in the rear bedroom at 4526 Keswick Road. (Easy to be free with that address now that I no longer live there.) Other North Side sites important in Tessworld include:
Evergreen
(501 W. Cold Spring): The coffee house has changed names several times, and no longer has a reflecting ball on a pedestal in a fake grotto (IASC), but it remains a convivial meeting spot. If you're lucky, you might see Sujata Massey writing here.
Video Americain
(400 W. Cold Spring): Like Tess and Whitney (NGD), I watched
Funny Bones
because it was a staff pick. This is the best video store anywhere.
Petit Louis
(4800 Roland Ave.) The meal that Tess and Tyner enjoy here (BAST) was taken straight from the menu at the time. Best steak frites in town.
Eddie's of Roland Park
(5113 Roland Ave.): Tess one made lunch from a four-ounce bag of chocolate peanut clusters and a 16-ounce Coca-Cola purchased at this beloved grocery store. Eddie's then mentioned that fact in its weekly flier.
Stone Hill:
Hard to find, but worth the effort. This old mill village, a veritable Baltimore Brigadoon (INASC) lies west of Keswick Road below 33rd Street and north of 29th Street.
The Ambassador
(3811 Canterbury Road): No, they don't deliver normally, (NGD) but this is an exquisite oasis (TSH) where they remember your favorite orders long after you move out of the neighborhood. Eat in the garden in good weather, try to get a table near the fireplace during the cold-weather months.
The Paper Moon Diner
(227 W. 29th St.): "The place . . . radiated good cheer, with its collection of Pez containers and old-fashioned toys." (IASC) Great omelettes and home fries. The menu also offers: "Hummus, Life on the Pita." The
Baltimore Museum of Art
(10 Art Museum Drive): Okay, Tess never makes it here. But she should. The Cone Collection is a must-see, as is the sculpture garden. And Gertrude's, the restaurant at the BMA, is a treat, especially for those who like seafood.
Stony Run Park:
A narrow slice of land, not easily accessible, but worth finding. It lies behind the synagogue on Cold Spring Lane, and south of Wyndhurst Avenue, between Roland and Charles.
"The Miracle on 34th Street"
(Thanksgiving through Christmas only): This block west of Keswick Road puts up a you-have-to-see-it-to-believe-it holiday lights display. (TSH).
"The Avenue"
- aka 36th Street: An increasingly upscale block, Hampden's main drag includes the
Café Hon
(IBT);
Golden West
(BAST);
Ma Petite Shoe
(BAST);
A Common Ground
coffeehouse; and several antique stores, some of which trade in Baltimore-bilia, including old Esskay tins. (I own three, but I'm always open to acquiring new pieces.)
Blame Canada
Margaret Cannon of Toronto's
Globe and Mail
has named
To the Power of Three
one of the 12 best mystery novels of 2005.